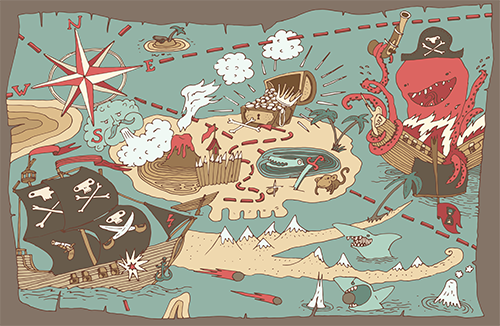 Whatever happened to that Pirate Book you were writing, you ask? Lots and lots of stuff.
All of 2022 and a few months of 2023 were spent writing Our Pirate Book, one chapter a month, with the goal of entertainment and testing whether I could write two books simultaneously. Spoiler alert: I can!
May 2023 saw Our Pirate Book pulled from my website's free resources. Two rounds of self-edits prepared the title for my co-idea-comer-up-with for analysis. A few changes, and it received the green light of success.
June came along, and the professional editor (a fantastic woman who fixed all my grammatical errors and made-up words) gave the book a very nice shine. The official book cover sprang to life near the end of June, demanding a quick name change for a twist!
Self-formatting and designing the chapter headers (one of my favorite parts of publishing) took most of early July. Then the most challenging part of publishing occurred… Hudson's Piratey Summer left my desk for the first rounds of editorial reviews. Waiting for the critics' response is always nerve-racking, but working on the next book alleviates most of the stress. And playing with Fat Hobbit helps.
May 2024 is the unofficial release date for Hudson's Piratey Summer. And with finishing the paperback cover, uploading the completed title, and marketing still ahead of me, I won't have time to be bored.
Thank you all for the help and support while writing this fun book.
Stay tuned for more updates!