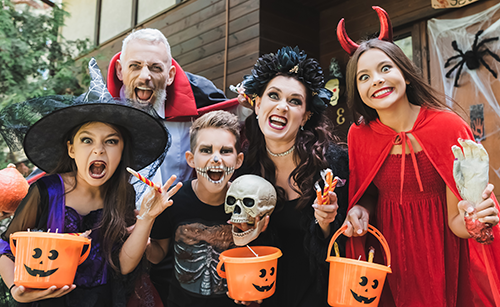 Halloween is just around the corner.
Which Halloween Spirit do you embody? Find out with this handy-dandy list I threw together. It's a hoot!
Stages of Halloween Spirit:
• Baby Spirit is dressed by their parents as a pumpkin or cat, forever yanking off the 'hat stem' and 'cat tail' that really sells the costume. Social media likes are through the roof for Grandma!
• Toddler Spirit is overly excited about the holiday and the chance for self-expression! They can be firefighters, princesses, or superheroes, keeping the spirit of Halloween alive all year long, wearing the poorly sewn, polyester getup as everyday clothing!
• Elementary School Spirit enters the minimalist age. Any costume will work, so long as it can secure the pillowcase of candy they plan to eat before the sun sets on Halloween Night.
• Middle School Spirit's costume must be on target, as close to the actual costume possible. Social media acceptance trumps the candy that flows so readily at this age.
• High Schooler Spirit revisits self-expressionism, using the newest pop culture reference as a costume, usually in a humorous way, passing on the candy for friendly hijinks.
• College Age Spirit. I have to pass on this one, mostly because I don't want to think about what my college-aged kids might be doing at this stage!
• Parent Spirit revives the Halloween Costume Cycle, dressing their own kiddos as pumpkins in a family effort to refill the candy jar stationed next to the fridge.
• Middle Age Spirit is in limbo. Their teenage kids no longer want to celebrate Halloween with their parents, resulting in some Middle Age Spirits turning off the porch light, wondering what all the fuss is about.
• Empty Nester Spirit ushers the kiddos off to college. Empty Nester Spirit grows nostalgic for Halloween, buying all the tacky yard decorations and far too many bags of candy, maybe even the full-sized bars they coveted as kids, hoping to be the 'cool house.' Silly adult costumes and dad jokes become the highlight of the month!
• Grandparent Spirit is quite possibly the best of all spirits. The kiddos have been gone for a while, and they have options. Perhaps they dress up and take the grandkids around the block, showing off the little cuties. Perhaps they turn off the porch light and nap in the recliner, eating the candy they bought from the plastic pumpkin bowl. Either way, they receive hundreds of darling photos of the Grandkids, which they can share with whoever will listen. Grandparent Spirit is the Life Goal!
Wherever you land on this list, enjoy the fun costumes and pure bliss on the faces of kiddos who love this time of year.