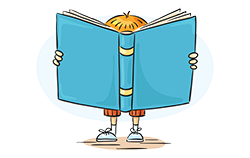 Summer is in full swing, but you know what's on the horizon…
Come fall, your homework will be reading to your kiddos thirty minutes a day, seven days a week. With work, daily chores, and dinner, you've barely got time to sit. You could lie―write in random books and drop your signature, but the kids are watching, mimicking how you navigate the world.
210 minutes of reading? Does the school think you're some kinda magician?
Ahh! But you are. You're an adult who understands the long-term importance of literacy, and that reading must be fun and encouraging.
Don't panic. Today I'm offering my tried-and-true method of getting kids to read willingly!
Have a special bag or crate where the books are curated and kept for the week that they belong to you. Make sure they are accessible to the kids, unless they are book eaters like mine.
Give each kid some pocket change for soda, gumballs, or whatever your library sells. Kids love money, so use the most amount of coinage you can find, allowing them to either spend it or save it for a rainy day.
Browse book covers and pick titles together. Discuss the art and how they think it relates to the story.
If there is a self-scanner, allow the kids to scan the books they picked out, teaching them to be gentle. Kids love all types of technology and even the library counts.
Now that the books are at home, don't let them collect dust.
After dinner, sit somewhere cozy and share a giant blanket.
Hype each new story and let the kid who picked the book decide who reads it. They might want to make up the story as they go along and that's okay. It builds confidence.
Read with enthusiasm! Make funny voices, shout at explanation marks, sound inquisitive at the question marks.
Let the kids interrupt and remember to respond to their observations. Immersive reading is the goal!
Allow kids to read the same book as many times as they like. This allows them to hear the words on the page and connect the spelling.
When the kids are 'too big' for reading aloud, let them do their own thing. Follow up with the kid later and be genuinely curious about how the story is going.
That's a lot of work, you say? Half of all adults haven't read a book in the last year, so why bother with early reading if most fall out of practice?
Children introduced to books at an early age are far more likely to be early readers, advancing in their education faster than their non-reading peers.
Sharing the imagination and fun of reading builds trust and strengthens relationships.
Early reading teaches life skills such as humor, the understanding of cause and effect, the importance of creating a routine, and the love of knowledge.
Start today. Find that special bag and grab the loose change from the laundry room. Take books on your family vacations. Bring them to grandma's house for some indoor fun. Kids today need their parents' and grandparents' attention more than ever. Thirty minutes a day of laughing and sharing will create strong and confident children―the next generation of adults.